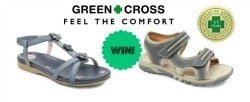 Green Cross Competition
It is vitally important to ensure that your kiddies wear the proper shoes from a young age, something that supports their growing feet and one brand that I have trusted for years is Green Cross. The Green Cross children's range consists of casual shoes, as well as a wide range of school shoes.
As your child grows you should have their foot size checked every three or four months. Once they reach the age of three, their feet should grow less rapidly and only require shoe fit-checks every four to six months. It is also important not to pass shoes on to other children, as each child has uniquely shaped feet.
Green Cross has collaborated with orthopaedic experts for over 36 years to develop the perfect anatomical shoes that help support and conform to the shape of the foot. It also allows the freedom for bones and joints to develop naturally. The shoes are designed to be comfortable, flexible and long-lasting. ~ Green Cross
Green Cross is passionate about providing great footwear, especially for supporting little developing feet. With this in mind we like to  offer 10 lucky readers the opportunity to win a pair of Green Cross shoes, as seen above, for their kiddies growing feet. All you  need to do to enter is show some Facebook love and Tweet about the giveaway! Enter via the simple Rafflecopter form below and a pair of Green Cross Kiddies Shoes could be yours!
a Rafflecopter giveaway

Competition Details:
The Green Cross Kiddie Shoe Giveaway will run from 20th November 2012, until the 30th November 2012. The winner/s will then be selected via the Rafflecopter form and announced on my blog and on Facebook. The winners will also be notified via email.
Please leave a comment on this blog, below the post, stating that you have completed the above, along with your details in the comment section below this post (please use a valid email address). Your details will be used to validate your entry if you are selected as a winner.
Conditions of entry: Anyone may enter this giveaway but please be advised that the various companies sponsoring prizes on Super Mom Blog, are based in South Africa and therefore prizes will only be shipped within South Africa. The prizes may not be exchanged for cash.