Grant and I recently spent a magical, romantic weekend at Angala Boutique Hotel in Franschhoek! Angala is the ultimate haven of peace and tranquillity. From the beautiful gardens to the Wellness and Hydro Facilities, you cannot help but relax and destress!
Angala Boutique Hotel Highlights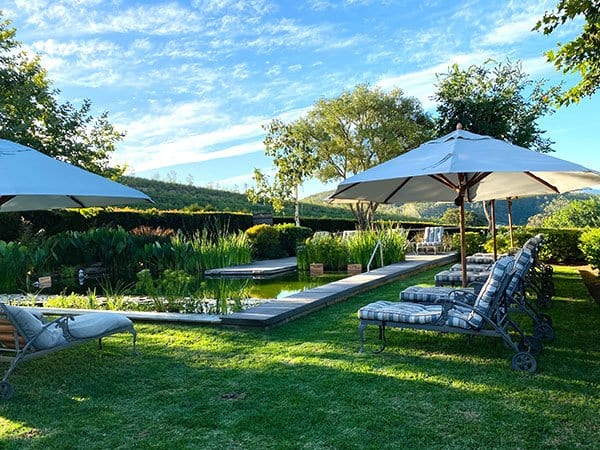 Something to note is that the Boutique Hotel is not situated within walking distance of Franschhoek town. However, the tranquil and somewhat remote setting is one of my favourite parts. The Boutique Hotel is luxurious without being pretentious. The staff are fantastic, professional but at the same time friendly and welcoming. An added bonus is the in-house restaurant, which means you don't have to leave the comfort of the hotel.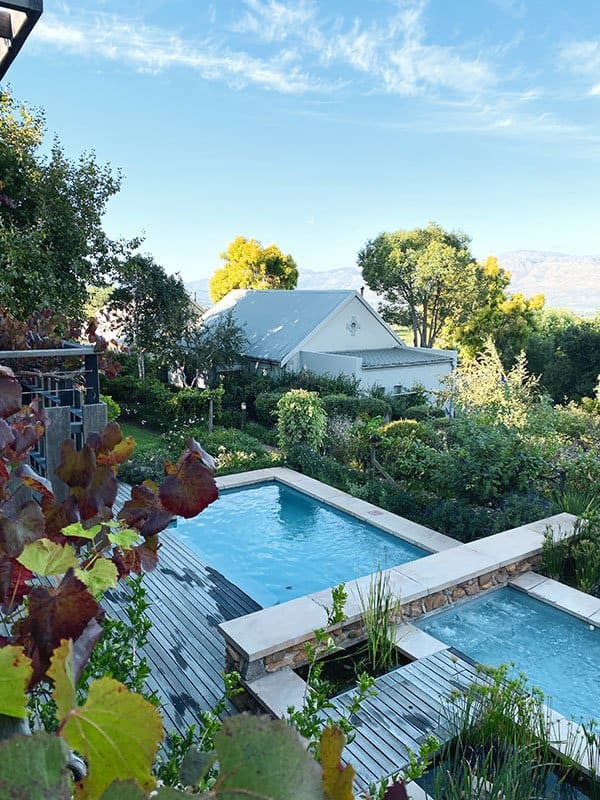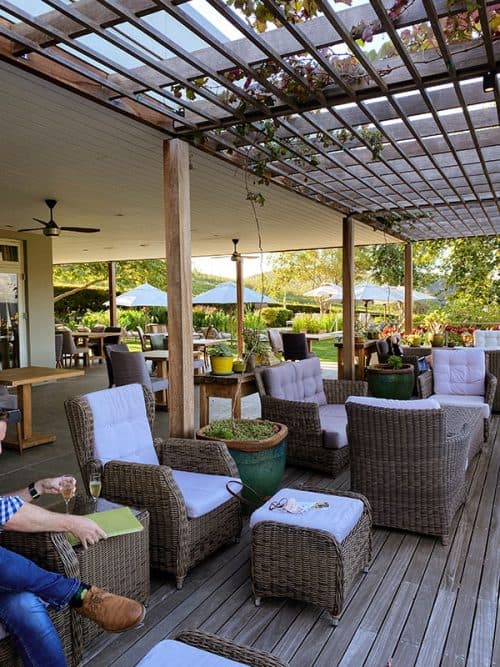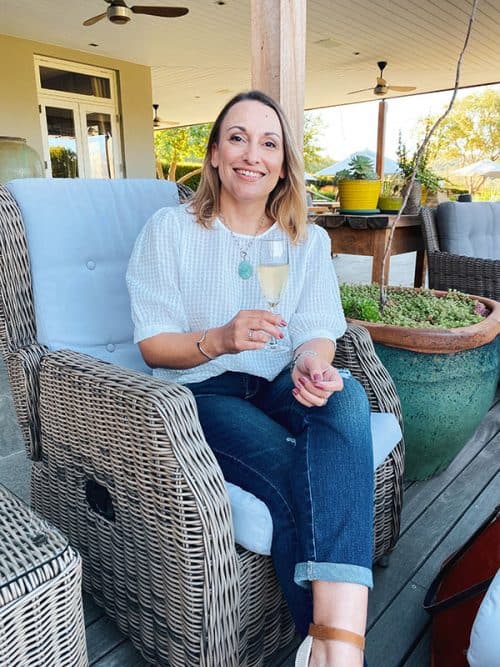 "Angala is where understated luxury blends with the pristine beauty of nature…it is the barefoot 5-star sanctuary you have been searching for. Located, in the heart of the Cape Winelands, between magnificent mountains, Angala seamlessly integrates luxury with nature, giving you a truly magical and tranquil experience where your world slows down, and you move into the much-needed disconnect we all seek."
The Rooms
Choose from 11 elegantly decorated, luxurious rooms featuring all of the modern conveniences a discerning traveller seeks. The owners themselves are responsible for the styling of the elegant interiors.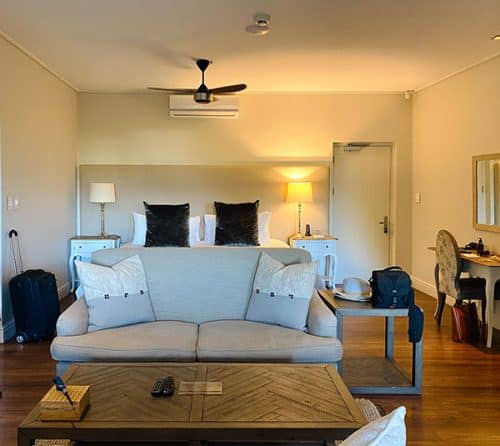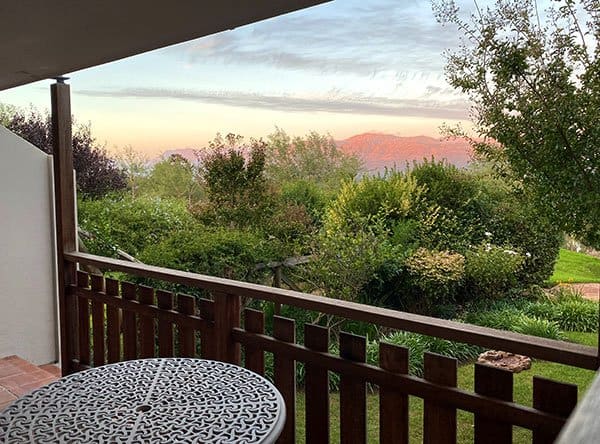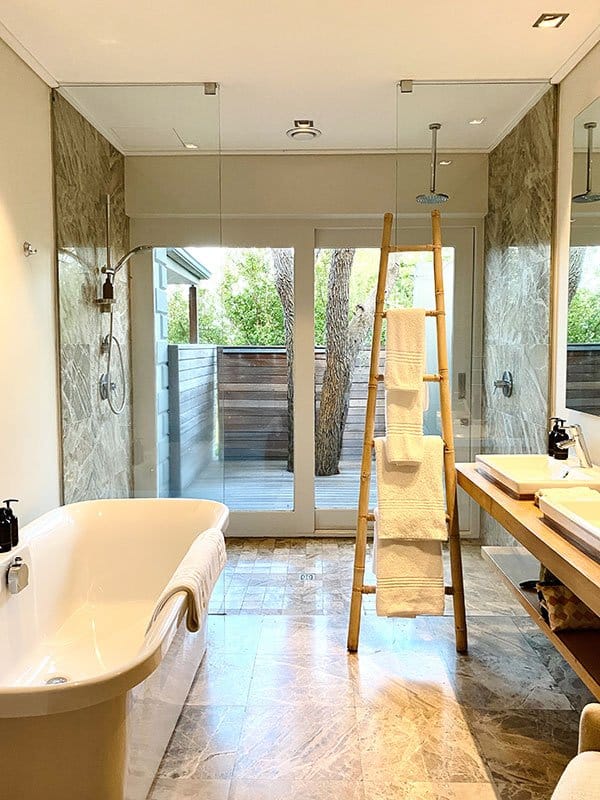 Grant and I stayed in one of their gorgeous luxury rooms. Our room, complete with its own private veranda and secluded garden, sported the most magnificent views across the Vineyards and Mountains. Not to forget the outdoor shower, spacious lounge and cosy fireplace. The super King-Size bed was incredibly comfortable…THE BEST TWO NIGHTS SLEEP in a very long time!
Facilities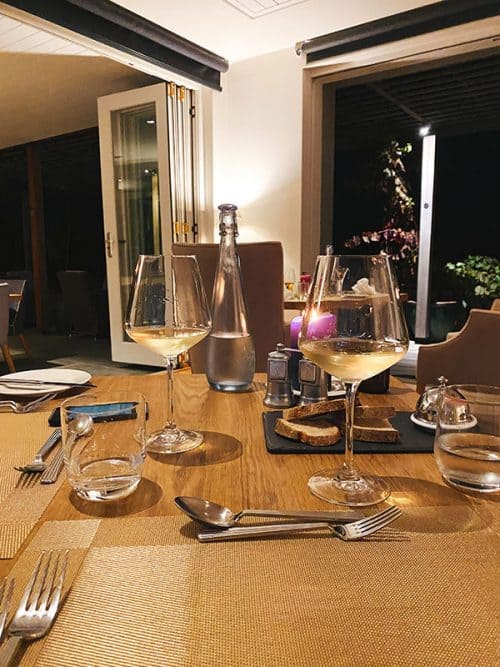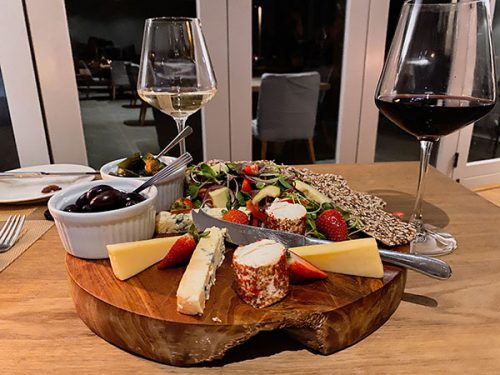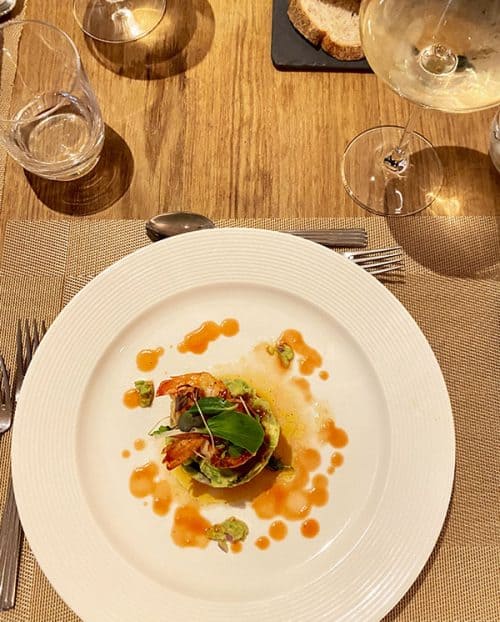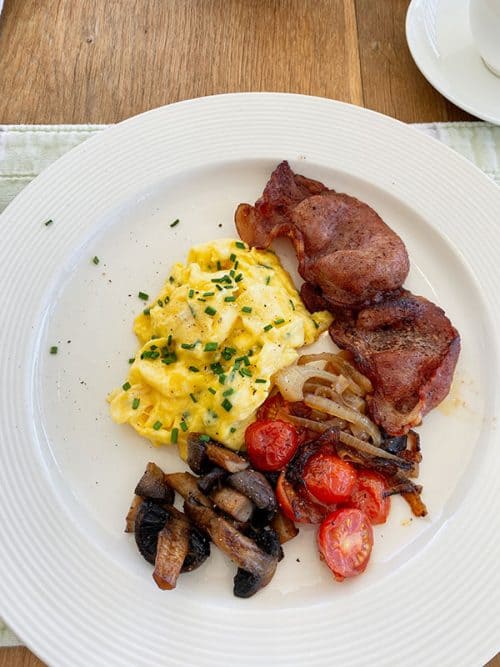 The in-house Restaurant at Angala serves breakfast, lunch and dinner. They will happily cater to all your dietary requests and needs. With our new eating plan, we can attest that they were more than accommodating. We enjoyed dinner there both nights – one a three-course set menu, while the other was a selection of platters, both equally delicious.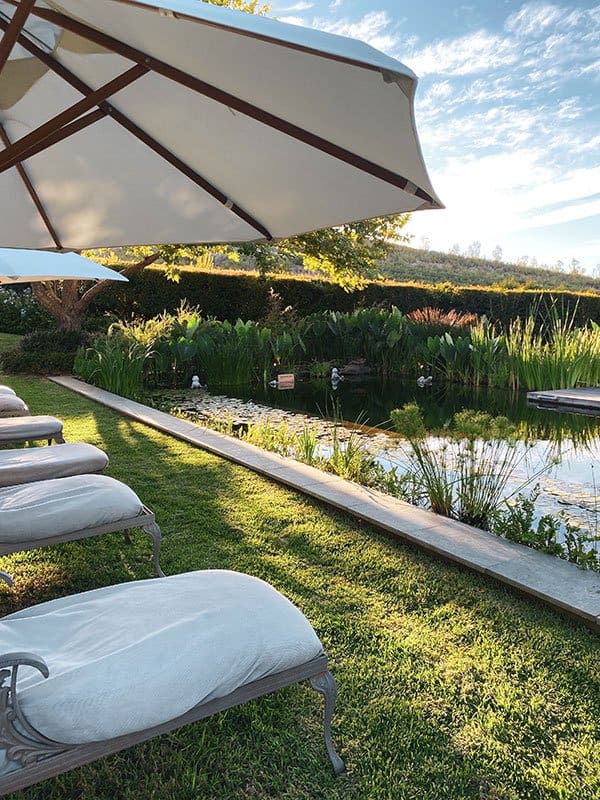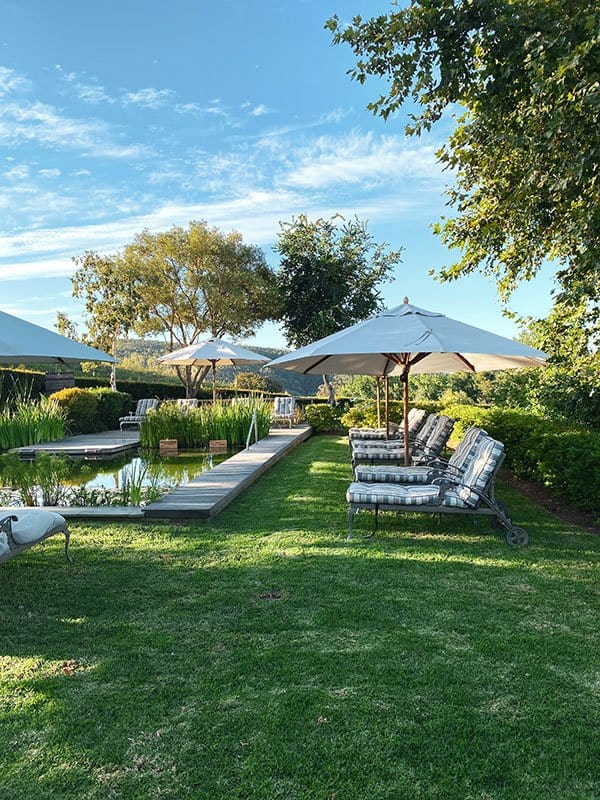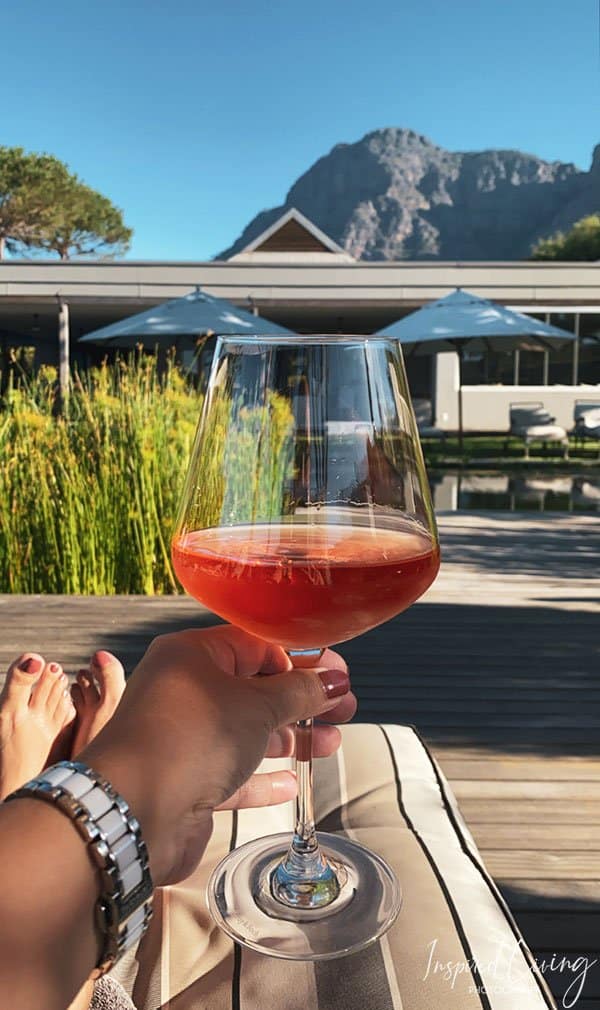 One of my favourite places at Angala is their unique Eco Pool. It is a lush oasis with an indigenous aquatic garden cradling a clear, natural pool. The living ecosystem of water plants ensures that the water is kept sparkling clean. With no added salt or chemicals, the water is gentle on your skin. A daily dip or two in the Eco Pool is invigorating and highly recommended, or alternatively, spend your days lounging poolside admiring the beautiful surroundings.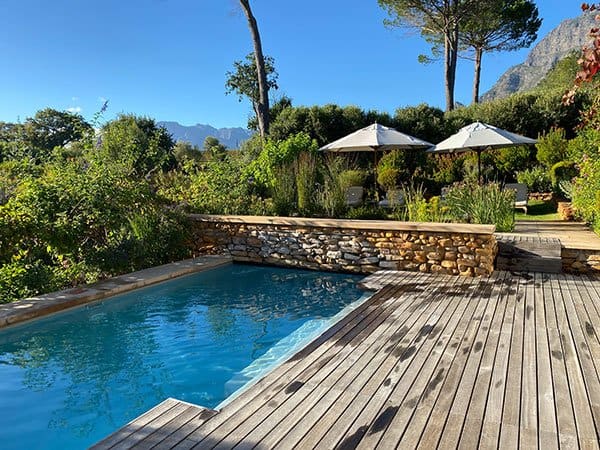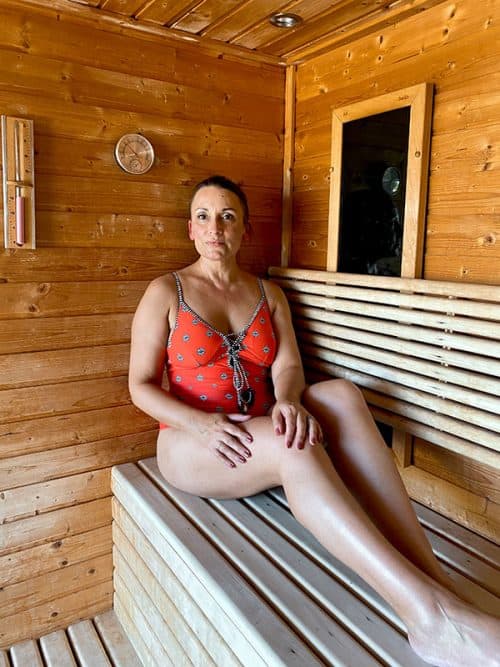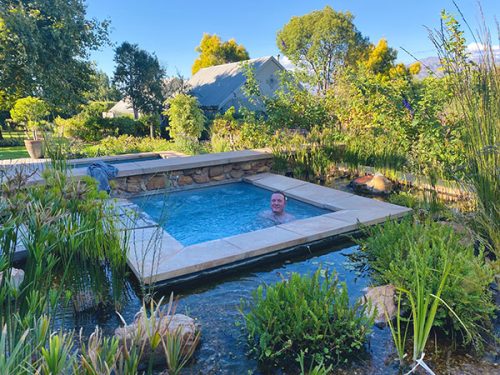 The Ozonated Pool, Heated Plunge Pool and Infrared Sauna & Steam Room are a fantastic addition to the hotel. Covid regulations, however, require guests to book appointments to use the sauna and steam room. Over the weekend, Grant and spent two glorious hours, at the Wellness Centre. It was just what we both needed to destress and relax. I especially loved the sauna – the radiant heat surrounds you and penetrates deeply into your joints, muscles and tissues, increasing oxygen flow and circulation.
Things To Know
The family-run boutique hotel is the perfect base for exploring Franschhoek and all the fantastic wine farms, world-class restaurants, incredible hiking and cycling, and shops in the area.
Wine lovers are spoilt for choice, as there are three of South Africa's top wine farms within 5km of your doorstep, as well as many more hidden gems nearby.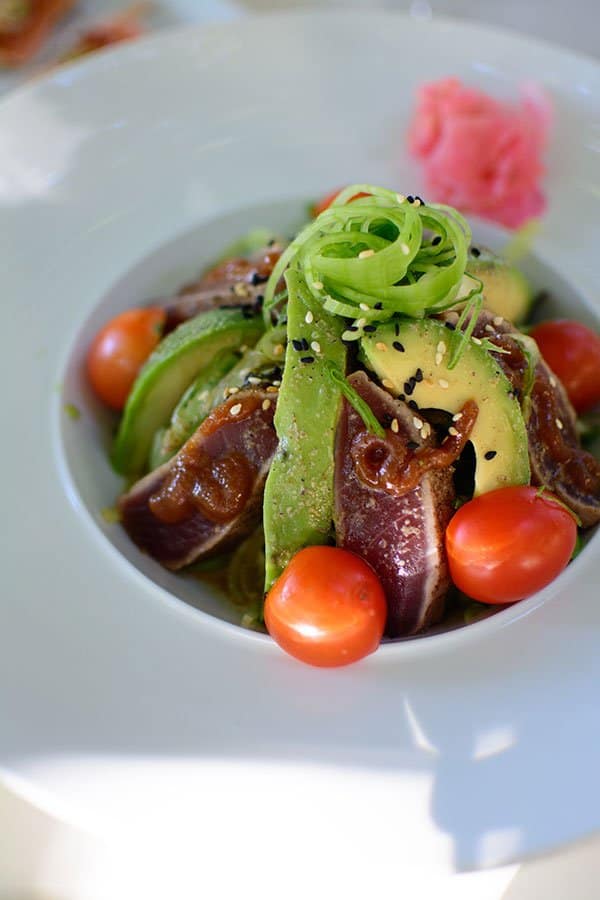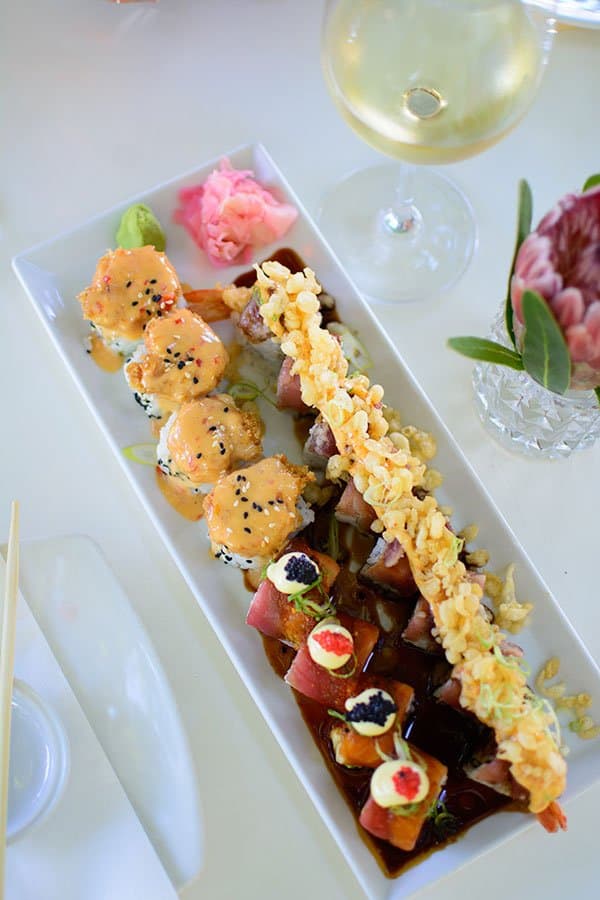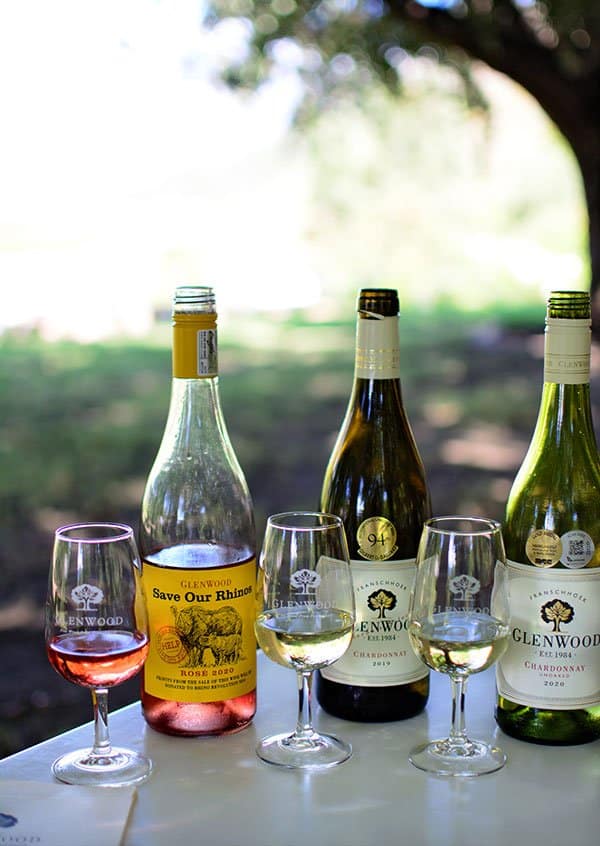 Similarly, foodies will be overjoyed to find half of the top 20 restaurants in South Africa, a ten to thirty-minute drive from Angala.
In conclusion, I can highly recommend a visit to this Oasis of Peace and Tranquillity! Why not spoil yourself, with their current South African Residents Special and receive a 50% discount on your stay. In addition, you will receive bubbly on arrival, complimentary in-room beverages, as well as breakfast daily. Not to forget wine tasting at two local wine farms.
Contact Details and Location
For inquiries or reservations contact them via telephone on 27 (0)21 874 1366 or Email: [email protected].
Location: Corner R45 & Klapmuts Road Through the Vrede en Lust Farm Simondium Franschhoek 7670 Cape Town, South Africa.
Images
©2010 – 2021 Inspired Living and Fiona Rossiter. Please do not use any images featured on this website, without written consent from the copyright holder and owner.
Disclosure & Disclaimer
Angala Boutique Hotel hosted us. Certain meals and drinks were complimentary. All information and rates are deemed accurate at the time of publication.